FALL 2019 NEWSLETTER
WEEK 7 (Oct 8 – 13)
Dear Parents, 
Welcome to the CalColor Academy Fall 2019 Quarter Newsletter!
STUDENT & PARENT HANDBOOK (CLICK HERE)
BOOK MAKEUP CLASSES, REPORT ABSENCES, & PAY MAKEUP FEE (ALL ONLINE)
STAY IN TOUCH: We post news, updates, and classroom moments.  
---
WATERCOLOR WORKSHOP (Adults & Age 16+)
We will be having a Watercolor Workshop with our very own teacher, Mr. Justin who primarily works with watercolors. 
WEBSITE: http://www.justinpastores.com 
MORE ABOUT HIS PROCESS: https://youtu.be/IqXsfKKy3so
The Watercolor Workshop is a 2 hour course designed for beginner and intermediate students ages 16 and up wishing to explore and improve watercolor painting techniques. This workshop introduce foundational watercolor techniques such as wet on wet, wet on dry, flat washes, and color mixing. Next, we'll apply them to your still life painting to create an atmospheric and beautiful watercolor to take home. 
DATE: October 18, 10AM – 12PM
LOCATION: CalColor Academy Fremont: 47816 Warm Springs Blvd, Fremont CA
REQUIREMENT: Ages 16+; ONLY 10 SEATS
COST: $50 per person (Art supplies are included OR you are welcome to bring your own watercolor materials) 
Refund Policy: We can not refund your tuition after Oct 5, 2019. 
HOW TO REGISTER:
Fill up the following registration form: https://docs.google.com/forms/d/e/1FAIpQLSd4dRvzhOraU1Qs3206Zu-rfE8VXZnFjPThSDz-SStn1TNSMA/viewform?usp=sf_link

Pay the tuition at front desk. 

You will receive the confirmation email after paying the fee. 
---
REMINDER
MAKEUP CLASSES (BOOK & PAY ONLINE)
More information HERE. 
General Steps:
$5 Processing Fee

 

per makeup class. 

Pay online or with the front desk as soon as possible. 
---
HOMEWORK – WEEK 7
EXPLORATION: Draw your favorite fruit or vegetable
FOUNDATION: Draw and dress up a scarecrow
ADVANCEMENT: Draw your kitchen
PD: Color study of a landscape
DRAWING PROGRAM: Draw a large stack of books as a study in planes and perspective
---
CALCOLOR CLASSES
EXPLORATION
Last week in the Art Exploration level, the students create a pumpkin project. 
Materials: Tempera Paint on Watercolor Paper

The students learned how to draw the pumpkin slices using ovals, but the important aspect is to make the lift of each piece and not make it fall flat. In addition, they learned about the shadow of the pumpkin. The students also learned how to mix their own orange paint on their paper, starting with the lighter color and a tiny bit of the darker color.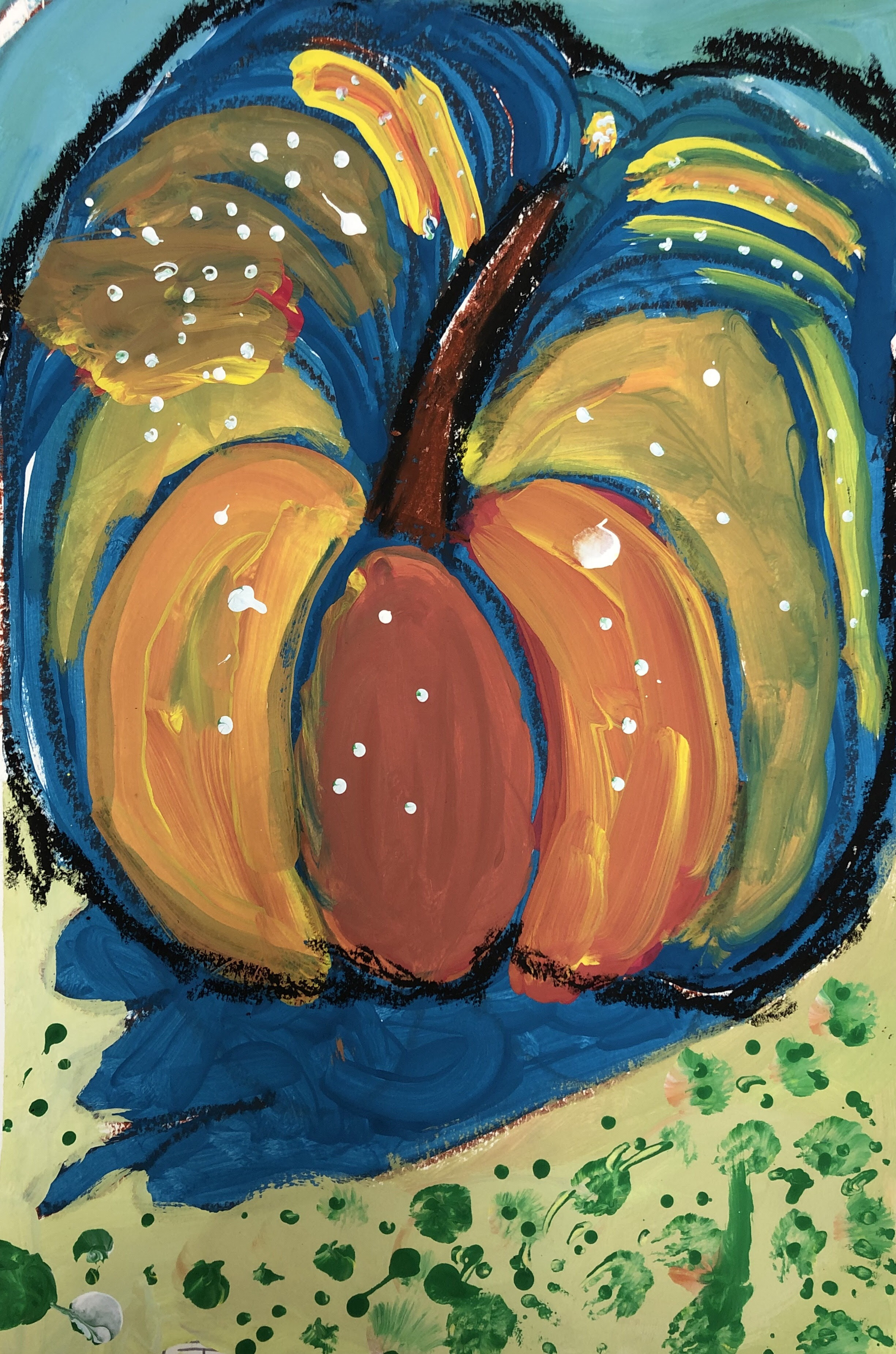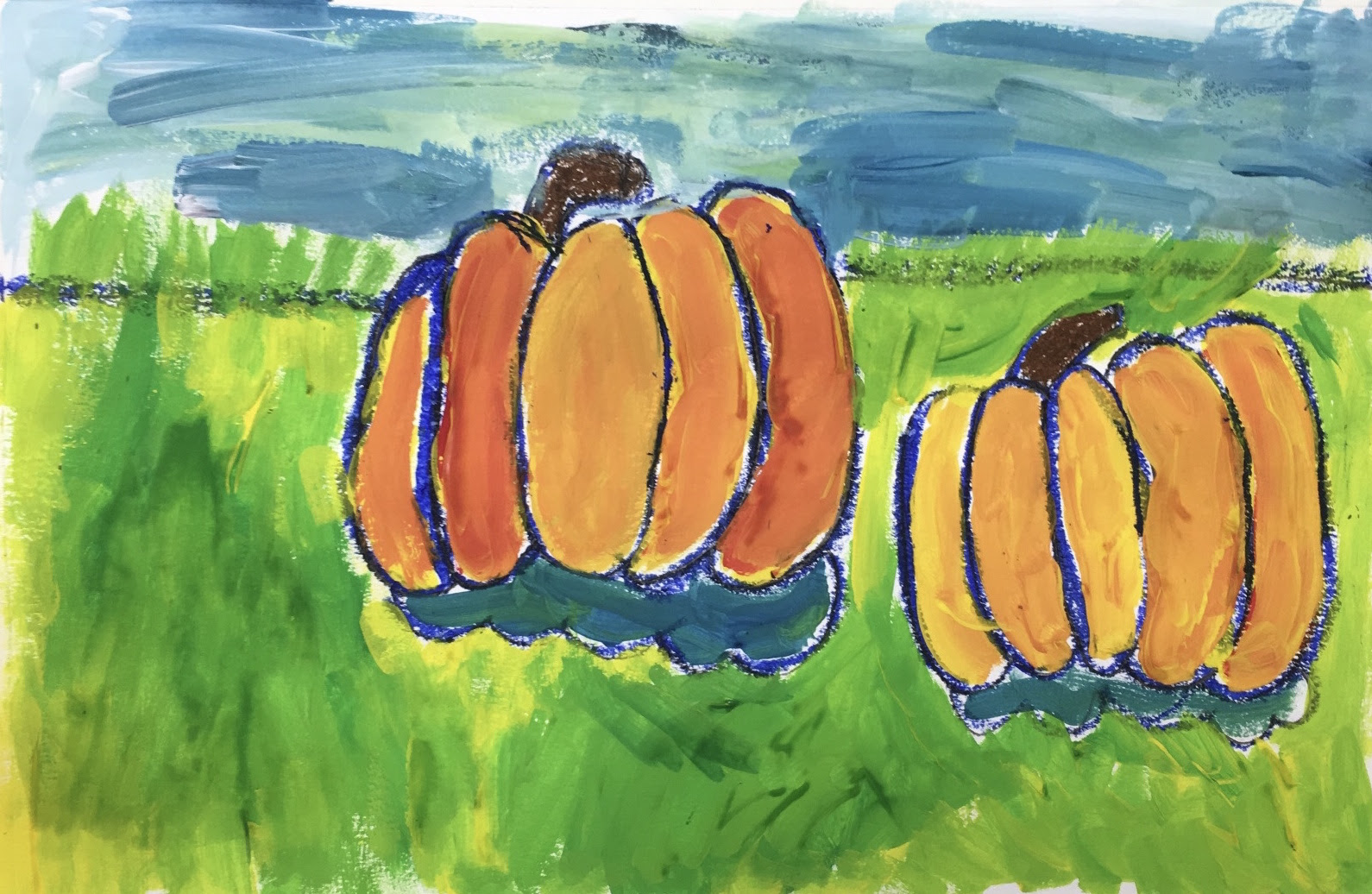 ---
FOUNDATION
Last week in the Art Foundation level, the students started their scarecrow project. 
Materials: Pencil on Mix Media Paper

The students learned about basic human proportion while drawing their own scarecrow. In addition, they learned about cross contour in order to create a more three-dimensional piece. Lastly, they started drawing different designs for their clothing. 
---
ADVANCEMENT
Last week in the Art Advancement Level, the students started with their watercolor washes. 
Materials: Watercolor on Paper

The students were introduced to laying down light washes for their fruit and room. Students needed to display a strong understanding of light and shadow before the painting process. Students reviewed basic watercolor principles such as painting from light to dark, letting paint dry between layers, and the different water & paint consistencies to make appropriate values.
---
PORTFOLIO DEVELOPMENT
Last week in the PD Level, the students are finishing their draft and starting their underpainting.
Materials: Oil Paint on Canvas

This week in PD, we continued working on the final painting draft as well as the underpainting. We also discussed color and used the original masterpieces to create color studies. 
---
SPECIAL DRAWING PROGRAM
Last week in the Special Drawing Program, the students created an ink still life. 
Materials: Ink on Paper

This week in drawing we focused on quick preparatory sketches using the pen.
---
DIGITAL ART
Last week in the Digital Art classes, the students are completing singular Character concepts for Dorothy, and started on exploring character concepts on the Cowardly Lion. 
The students are arranging their character sheets to involve the key points of their design process. This shows an ability to organize a creative process so that your audience can enjoy the most interesting parts of the creation process. This also allows each artist to spend more time on perfecting their character and finding the most effective way to present their character in their final illustrations!